On Thursday, March 1, 2018, 6:30 pm, the Lexington chapter of Wild Ones will meet for a presentation by
Heather Wilson, LFUCG Arborist: Lexington's Urban Forestry Programs
As more and more people around the world live in cities, trees are becoming important assets to the urban environment. Lexington is one of the cities that have stepped up their urban forestry program. Heather will explain how Lexington has moved toward garnering support for our trees and natural areas and how these resources are currently managed. She will also address some of the road blocks in the way of a better tree canopy and opportunities for citizens to support and influence the city's path.
We will meet at St. Michael's Episcopal Church, 2025 Bellefonte Drive, Lexington. Social time with refreshments starts at 6:30 pm and the presentation starts at 7.
OUR MEETINGS ARE OPEN TO THE PUBLIC
---
Our Wild Ones Organization
advances the knowledge about the native plants of our region and their habitats
promotes the use of native plants in private and public landscapes
encourages the creation of gardens that sustain bees, butterflies, moths, birds and other wildlife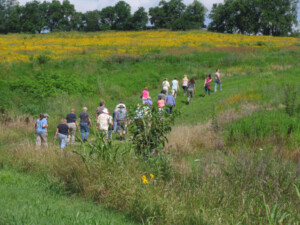 Our Chapter
hosts monthly meetings with an educational program and an opportunity for socializing
organizes an annual plant exchange in May
conducts tours of native plant gardens for the Lexington community
collaborates with other organizations to promote sustainable landscape design and plant choices
Our Members
created a pollinator garden at Wellington Park, Lexington, and continue to maintain it
contribute to the establishment of community gardens and the restoration of stream banks
offer presentations to interested groups about ecological gardening
have planted numerous Monarch Way Stations in central Kentucky