On Thursday, June 2, from 6:30 to 8 pm, we will hold our annual picnic at Hill'n Dale Park in Lexington
Please bring food for yourself and drinks to share. There is a shelter at the park with picnic tables, but folding chairs might come in handy as well.
Our program for this evening is
Essentrics for Gardeners, led by Beth Kelly

Beth is a wellness coach and will guide interested participants in learning strengthening exercises and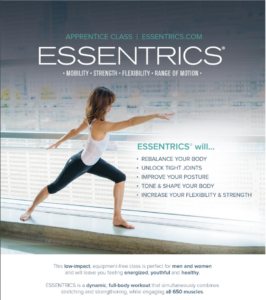 stretches helpful for gardeners. Gardening is a whole body workout that involves manual labor. Essentrics will increase flexibility and overall strength to help with the repetitive movement and the getting up and down involved in gardening. Participants will learn some exercises to help unlock tight joints and to prevent injuries. Wear comfortable clothing.
All our meetings are open to the public unless otherwise noted
—————————————————————————————————————————————–
Saturday, May 28, 11 am to 2 pm
Garden Visit at 992 Stonewall Road, Lexington
Rain Date: Sunday, May 29, 11 am to 2 pm
Host: Wild Ones member Jannine Baker
This is a mature front and back-yard garden on a mid-size suburban lot. Jannine first acquired native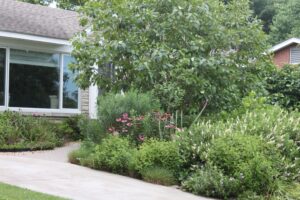 plants in 1998 when she participated in a wildflower rescue near Frankfort. What began as a mostly full sun space and almost all lawn is now mostly a shade garden with lots of mature shrubs and trees. Jannine's primary goal is to provide good habitat for birds. Currently, her yard bird list is over 100 species. She has recently redone her rain garden to remove built-up sediment, and she is replacing older plants and shrubs that are no longer thriving due to age or disease.
Our meetings and events are open to the public unless otherwise indicated
---
Saturday, June 18, 10 am – noon: 
Garden Visit at 4868 Waterslide Drive, Lexington    
Rain date: Sunday, June 19, 10 am – noon
Hosts: Wild Ones members Vicki and Jeff Holmberg
This garden is likely to surprise you. It extends over a large suburban property from the front of the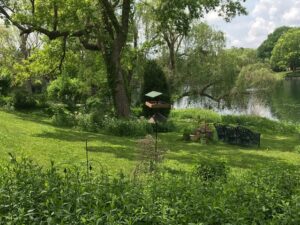 house along both its sides and over a back yard that slopes down to the edge of a lake. An immense variety of native plants grow here and many should be in bloom during this mid-summer visit. Two very old chinquapin oaks give dappled shade and an enormous dutchman's pipevine climps up an arbor and into a willow that leans over the water. The water's edge provides opportunities for wetland plants rarely seen in other gardens like scouring rush horsetail, lizards tail, hibiscus, narrow-leaf sunflower and others.
____________________________________________________________________________________
Looking to buy native plants in Central Kentucky? Click here.
Looking for a Landscape Service? Click here.
Looking for volunteer opportunities? Click here
To receive our monthly e-Newsletter, sign up here.