Native Plant Habitat Day on Saturday, May 18th, 1 to 4:30pm, at Salato
Kentucky native plant experts Russ Turpin, Joyce Bender, and Karen Lanier will be on hand to discuss the following topics:
– Creating beautiful and functional rain gardens
– Planting native alternatives to invasive plants
– Creating native wildlife habitats
There will also be a native plant sale (while supplies last) courtesy of Connie May of Chrysalis Natural Landscapes, Frankfort.
The Habitat Day is presented in honor of the late Mary Carol Cooper, director of Salato's Native Plant Program 1992 to 2012.
Salato's address: #1 Sportsman's Lane, Frankfort, Ky 40601
If this address doesn't work with your phone/GPS, instead try: #1 Game Farm Rd, Frankfort, KY 40601
+++++++++++++++++++++++++++++++++++++++++++++++++++++++++++++++++++++++++++++++++++
Thursday, June 6, 6:30 pm, Summer Potluck and Tour at Merrick Park:
After the potluck, we will see the Merrick Park Stream Restoration. The small stream that flows through Merrick Park in the Lansdown-Merrick Subdivision does not have a name but, as part of the Hickman Creek Watershed, plays a key role in flood control on Tates Creek Road in the vicinity of the New Circle interchange. In the early 1990's, LFUCG built a retention basin and ceased mowing the creek embankments to create a riparian zone. Neighbors bordering the creek were encouraged to do the same. While there are numerous mature, native trees along the creek, this zone became infested with a variety of invasive plants. In 2018, botanist Julian Campbell led an effort to convince the neighborhood association and LFUCG Parks to remove the invasives and plant natives using volunteer labor.
All our events are open to the public
+++++++++++++++++++++++++++++++++++++++++++++++++++++++++++++++++++++++++++++++++++
Our Wild Ones Organization
advances the knowledge about the native plants of our region
promotes the use of native plants in private and public landscapes
encourages the creation of gardens that sustain bees, butterflies, moths, birds and other wildlife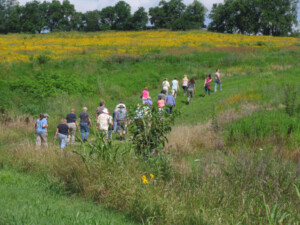 Our Chapter
hosts monthly meetings with an educational program and an opportunity for socializing and networking
organizes an annual plant exchange in May
collaborates with other organizations to promote sustainable landscape design and plant choices
Our Members
created a pollinator garden at Wellington Park, Lexington, and continue to maintain it
contribute to the establishment of community gardens and the restoration of stream banks
offer presentations to interested groups about ecological gardening
have planted numerous Monarch Way Stations in central Kentucky