The Lexington chapter of Wild Ones will meet on
Saturday, July 20, 10 am
in Frankfort at Dolly Graham Park, on the corner of Second Street and Logan Street

We will visit two sites:
1.) Fantasy Forest, created 6 years ago as an urban micro-forest and planted with 100+ species of trees, shrubs, and wildflowers. This tour will highlight landscape worthy species that benefit birds and butterflies as well as rare species.
2.) The near-by garden of Debra Parrish, at 714 Shelby St. Debra has created a beautiful, bio-diverse backyard habitat with huge plants like prairie dock and ironweed. It is thrilling, but neat and tidy — quite a feat!
We will have refreshments, but we will also provide a short list of Frankfort restaurants where participants can g0 for a post-meeting lunch.
We welcome the public to our events
+++++++++++++++++++++++++++++++++++++++++++++++++++++++++++++++++++++++++++++++++++
Our Wild Ones Organization
advances the knowledge about the native plants of our region
promotes the use of native plants in private and public landscapes
encourages the creation of gardens that sustain bees, butterflies, moths, birds and other wildlife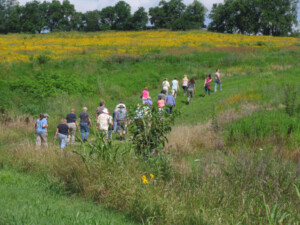 Our Chapter
hosts monthly meetings with an educational program and an opportunity for socializing and networking
organizes an annual plant exchange in May
collaborates with other organizations to promote sustainable landscape design and plant choices
Our Members
created a pollinator garden at Wellington Park, Lexington, and continue to maintain it
contribute to the establishment of community gardens and the restoration of stream banks
offer presentations to interested groups about ecological gardening
have planted numerous Monarch Way Stations in central Kentucky