March 2021
The Miracle of a Dying Tree
The red oak tree in our wooded backyard had been there for decades.  It stood looking over Herrington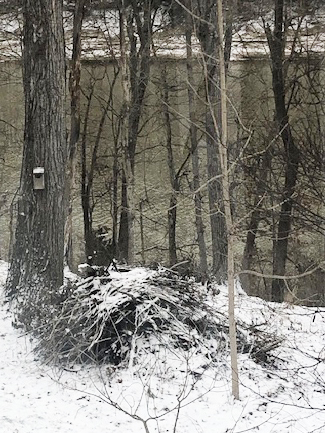 Lake and every year was a host to birds and caterpillars of many species. A piliated woodpecker visited it regularly and barred owls hooted from its branches at night.  It was a treasure and an important part of the natural, native environment that we have allowed and encouraged.  And then it died last year, suddenly with little warning.  It was not close to our house and was not falling apart onto other trees. What to do? 
Our arborist, Jason McKinney, who loves naturalized gardening, said it was a hardwood which could stand for some time. It was obvious he was not anxious to cut it down.  And so, we decided to leave it, at least for a while, and see what would happen. 
Last spring, there it was, 50 feet tall, still towering over the trees nearby, but its leaves and its shade were gone – though other shorter trees helped fill in the spaces.  The wildflowers sprung to life and bees flocked to the Virginia bluebells, mayapples, foam flowers, wood poppies and wild columbines that were encouraged by a bit more sun.  A two-foot tall tulip poplar that had planted itself a few years ago began to grow with abandon.  It even had two blooms for the first time.  Small maples also began to grow.  A bald eagle lit in the top of the dead tree during a hard rain and stayed there for almost 30 minutes, too soaked to fly.  And, magically, the first hummingbird of the season came to the columbines, touched every bloom, then flew onto the tip of a bare branch and rested there between sips of nectar.
By fall, we were so very happy with our decision to let nature care for itself. Color was provided by the red leaves of the Virginia creeper that quickly took possession of the dead trunk.  The red and sugar maples growing behind the tree were now much more visible.  Wood asters and zigzag goldenrods that had languished there for 13 years were happy in less dense shade and covered by small skipper butterflies and tiny bees.  The hummingbirds were gone but other migrating birds were everywhere and could now  be observed easily.  A screech owl took up residence in a hole near the top of the trunk.  And that tulip poplar was taller than myself and would keep growing.
The words "Leave It Be" come to mind every time I gaze at our old friend.  I can't wait to see what treasures the red oak will bring in the future.  Life goes on and, in its dying, the tree became a beacon for those that were left behind.
Linda Porter
---
February 2021
Transforming Downtown Lexington: Town-Branch Park
With all the pandemic bad news in 2020, you might have missed hearing about an ongoing project to create a vibrant new park in the heart of downtown Lexington.   Town Branch Park will be more than nine acres in size replacing the Manchester Street Parking Lot between Oliver Lewis Way and the updated Rupp Arena complex (see the Google Street View for the location).
Town Branch Park is part of a transformative plan for downtown Lexington.  Three organisations are involved in implementing the plan, and two of these have "Town Branch" in their name. So the relationships between these organizational entities and the physical locations for which they are responsible can be a bit complicated. 
Town Branch Park is a private 501c (3) organization founded in August 2019 as a park conservancy to build and then maintain Town Branch Park.  This is the first park conservancy in Lexington but many exist around the country. In Louisville, the Olmstead Park Conservancy works with Louisville Parks and Recreation to maintain the Louisville parks.  New York City has a Central Park Conservancy and the famous High Line Park in New York was created using the conservancy model.  In fact, in July 2020 Town Branch Park joined the High Line Network, https://network.thehighline.org/ . 
The City of Lexington is developing Town Branch Trail, a bike and pedestrian trail part of which will run through downtown from Third and Midland to Rupp Arena. From there it will continue along Town Branch Creek ending at the entrance of Masterson Station Park. 
Town Branch Commons is a sort of umbrella organization for both Town Branch Park and Town Branch Trail. It is made possible by a public-private partnership between Town Branch Park (the conservancy) and the City of Lexington.  Town Branch Commons, however, is also the name of a physical location, a sort of roadside park that will run from the Isaac Murphy Memorial Art Garden on Midland and Third to Town Branch Park connecting two downtown parks.  The Town Branch Trail runs through the Town Branch Commons area along Midland and Vine.  If you have been downtown, I'm sure you have noticed this on-going construction.
Regardless of how these Town Branch entities are related, the group of projects will transform downtown.   Town Branch Park will serve as the hub, connecting the Town Branch Trail to the Legacy Trail.  Park plans include daylighting some of the original Town Branch stream. 
Economic benefits include assisting the city with storm water management and with meeting the requirements of the EPA Consent Decree finalized in 2011.   Since the park is adjacent to the new entertainment complex, Rupp arena and the convention center the park will enhance the downtown experience supporting tourism and property values.
In addition, the park will add much needed green space and tree canopy to downtown.  The Trust for Public Land ranks each of the 100 largest U.S. cites based on access to public parks.  Lexington's rank is 62 with only 54% of Lexington residents living within walking distance (½ mile) of a park (https://www.tpl.org/city/lexington-kentucky ).  By comparison, Cincinnati ranks 5th with 82% of residents living within walking distance of a park.
Come join us at our Feb. 4 meeting (by Zoom) to find out more about Town Branch Park.  I am looking forward to enjoying downtown Lexington and our new park in the future.
Laura Cole
---
December 2020
Biodiversity in Kentucky
Have you ever wondered about the biodiversity of Kentucky and more specifically the Red River Gorge?
Kentucky boasts a wealth of native biodiversity. The rolling hills, plains, and mountains in our state contain over fifteen thousand insect species, two thousand plant species, about three hundred seventy bird species, as well as over five hundred arachnid species…which some of you may not be too happy to know about. One of our state's ecological hotspots is the Red River Gorge located in Slade, KY. This site is known to host over one thousand five hundred different plant species. Our upcoming speakers are specialists on this topic and will be highlighting the native plant diversity of the Red River Gorge on Thursday, December the third at 7:00 PM via Zoom.
So, what are some threats to our biodiversity?
Invasive plant and insect species pose some of the greatest threats to our biodiversity. We all know of the common urban menaces such as bush honeysuckle, winter creeper, and the brown marmorated stinkbug. Hemlock wooly adelgid, an import from Asia that looks like an aphid, is currently wreaking havoc on our native hemlocks in areas like the Red River Gorge. The insect feeds on sap and coats the leaves with a waxy substance. This feeding process eventually cuts off nutrient flow and kills the tree. Hemlocks offer shade in many river valleys and near streams. The loss of these trees can disrupt the temperatures of our waterways which reduces biodiversity. Some of the easiest ways to prevent the spread of pests like these are to make sure you clean and change shoes when hiking. If you know you are working in an area with lots of invasive species it is wise to sanitize clothing before going into another natural area. Public education about biodiversity is our best ally, and donating to local environmental organizations that protect native species is one of the best ways to preserve our natural heritage.
Cody Jones