September 2023
Art and Nature
Ornamental gardens aim to make our environment beautiful, to lift the places where we spend our time above the humdrum of the random objects and structures that surround us everywhere. In gardens, plants are judiciously arranged to soften buildings, vistas suggest a sense of mystery, and paths guide the foot. Ornaments, carefully placed, give meaning to an outdoor space. Even when mass produced in a factory, an ornament can have a stunning effect in a garden. It may provide color amidst the relentless green of plants. Or perhaps its surface contrasts with the vivid texture of many different leaves.
But it is a sculpture, individually formed with artistic intent, that can take the breath away. Like all good sculpture it invites reflection. In a garden it will invoke thoughts about the powerful relationship between human creativity and the relentless creative process of nature. Aristocratic gardens of the past relied heavily on sculptures for ornamentation, and in recent years, sculpture parks have opened their gates for the enjoyment of the general public.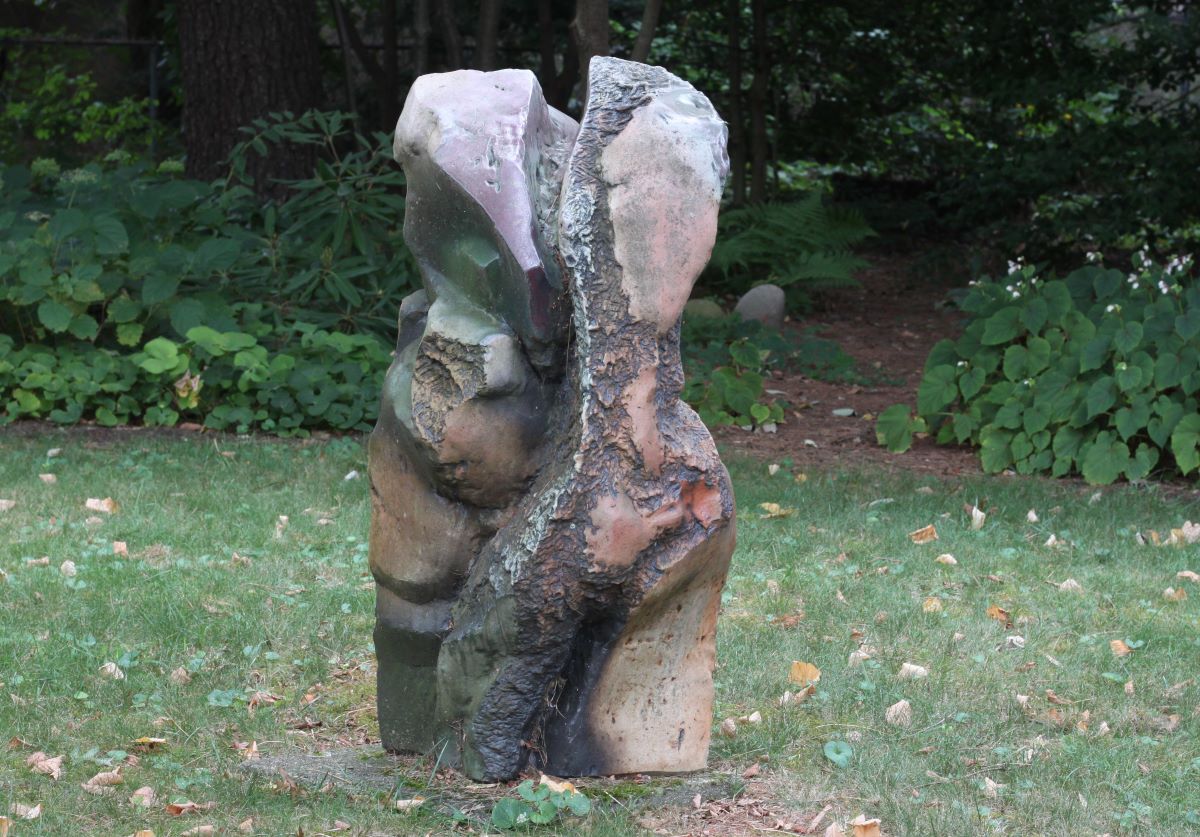 Of course, one does not have to be the owner of a vast estate or the administrator of a large park to display an outdoor piece of art. Every garden, no matter how small, can accommodate an individually crafted sculpture. The ceramic piece shown here is a focal point in a Lexington backyard garden. It was placed right in the middle of the lawn so that it can be viewed from all sides.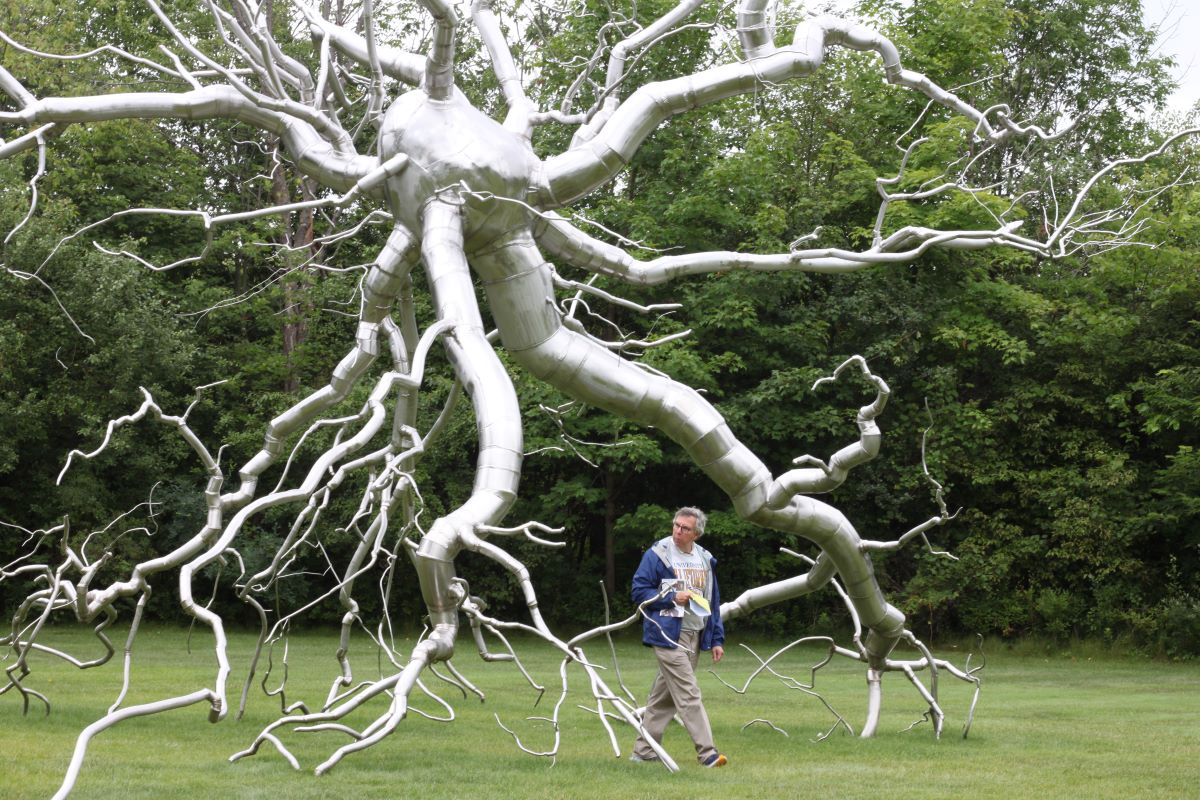 Large public gardens that are lavishly funded by corporate money can display monumental sculptures for which a private garden would never have room. The spidery sculpture shown in the photo engages visitors at the Frederik Meijer Gardens and Sculpture Park in Grand Rapids, Michigan (and you can probably guess which US corporation was coaxed into donating a very big chunk of money for that park). But not all sculptures at the Meijer Gardens are outsized. Some sit just quietly along a path, and a visitor may stumble upon them, possibly with a jolt, as may be the case for the bound head-with-book.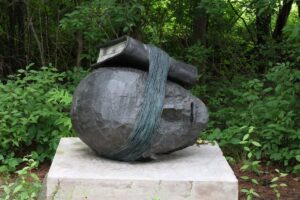 In Central Kentucky we are blessed with a unique sculpture park. It is the brainchild of Melanie van Houtten, a native of Frankfort. She left Kentucky to study art and worked as an arts administrator, but returned years later when she inherited her family's land which was no longer farmed. She and her husband built the park from scratch. They invited artists in residence to populate it with some of its earliest pieces of art, they applied for grants to help finance the purchase of sculptures, and they engaged the Frankfort community to support their enterprise. They named the park after Melanie's grandmother Josephine.
Eventually it became clear that former farmland left uncultivated and unmowed will not sprout a desirable Bluegrass forest or savannah. So, battling bush honeysuckle and planting native trees, shrubs and prairies became part of Melanie's enterprise as well. Again, she engaged her community to provide advice, financial help, and volunteers to help create a diverse native plant landscape where an ever growing collection of sculptures are displayed. The Josephine Sculpture Park is open daily from dawn to dusk throughout the year. Admission is free.
Beate Popkin
_______________________________________________________________________________