The Lexington Chapter of Wild Ones will meet on
Thursday, August 5, 6:30 pm at the Unitarian Universalist Church, 3564 Clays Mill Road, Lexington
for a
Picnic and Visit of a New Pollinator Garden

(This is our rescheduled meeting of July, which was drowned out by rain)
This spring, the Unitarian Universalist Church's landscape committee planted a pollinator garden prominently visible from the street. Following our picnic, committee members will show off their new garden. They will talk about the issues that arose during installation and the hopes they have for the future. This garden was financed partially with a grant from the Lexington Wild Ones Chapter. For a preview of the garden visit, read the essay that Susan Cohn wrote about the trials and tribulations her committee faced during their work.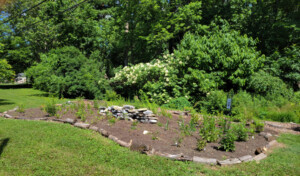 The 7 acre church property also contains an old woodland with a number of large and significant trees.
We will begin this meeting with our annual picnic on the church grounds. Participants should bring a chair and their own food and drink. The church asks those who attend outdoor meetings on their property to either observe distance from others or wear a mask.
All our meetings are open to the public unless otherwise noted
---
Looking to buy native plants in Central Kentucky? Click here.
Looking for a Landscape Service? Click here.
Looking for volunteer opportunities? Click here
To receive our monthly e-Newsletter, sign up here.