The Lexington chapter of Wild Ones will meet on
Saturday, June 29, 1 pm
at Dave Leonard's farm, 376 Plummer Road, Stamping Ground, KY

Dave, who is the co-owner of Dave Leonard Tree Service, will show us around his farm and talk about the many trees he has planted while he has lived there. Alicia Bosela, owner of Ironweed Nursery, will be our guide to the native shrubs, flowers and grasses on the farm. This property has been tended for a long time with a commitment to native plants, and there is much to see and to learn.
Dave and his wife Nancy will serve refreshments, but participants in this event may, if they want to, contribute to the afternoon's food and drink.
There will be native plants for sale, including trees.
All our events are open to the public
+++++++++++++++++++++++++++++++++++++++++++++++++++++++++++++++++++++++++++++++++++
Our Wild Ones Organization
advances the knowledge about the native plants of our region
promotes the use of native plants in private and public landscapes
encourages the creation of gardens that sustain bees, butterflies, moths, birds and other wildlife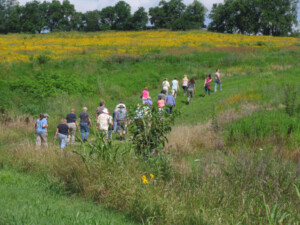 Our Chapter
hosts monthly meetings with an educational program and an opportunity for socializing and networking
organizes an annual plant exchange in May
collaborates with other organizations to promote sustainable landscape design and plant choices
Our Members
created a pollinator garden at Wellington Park, Lexington, and continue to maintain it
contribute to the establishment of community gardens and the restoration of stream banks
offer presentations to interested groups about ecological gardening
have planted numerous Monarch Way Stations in central Kentucky