On Thursday, May 2, starting at 6:30 pm, we will have our
Annual Plant Exchange and Fundraiser
We will meet in the lower parking lot at St. Michael's Church, which is accessed from Libby Lane. (The church's official address is 2025 Bellefonte Drive). Items to be exchanged can be seeds, perennials, grasses and sedges, shrubs, trees or vines.
Plants brought for exchange must be native to the Eastern United States (cultivars of a native plant are acceptable). They should be potted if dug up several weeks before the exchange. If they are dug on the day of the exchange, their roots may be kept moist in wet newspaper surrounded by a plastic bag. Each plant must be labeled.
Participants who have no plants to offer may contribute something good to eat or drink for the evening's social gathering, in exchange for plants. Finger foods, beer, wine and juices are particularly cherished. Our plant exchange is also a fundraiser and supports our programs. We ask that Wild Ones members pay $5 for a ticket to select multiple plants, and that non-members pay $7. It's great fun and everybody gets to go home with new plants.
There will also be a raffle with some pretty exciting items to be raffled off.
All our events are open to the public
+++++++++++++++++++++++++++++++++++++++++++++++++++++++++++++++++++++++++++++++++++
Our Wild Ones Organization
advances the knowledge about the native plants of our region
promotes the use of native plants in private and public landscapes
encourages the creation of gardens that sustain bees, butterflies, moths, birds and other wildlife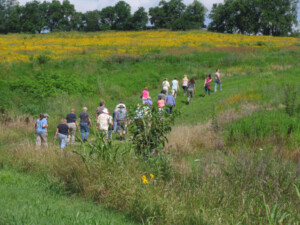 Our Chapter
hosts monthly meetings with an educational program and an opportunity for socializing and networking
organizes an annual plant exchange in May
collaborates with other organizations to promote sustainable landscape design and plant choices
Our Members
created a pollinator garden at Wellington Park, Lexington, and continue to maintain it
contribute to the establishment of community gardens and the restoration of stream banks
offer presentations to interested groups about ecological gardening
have planted numerous Monarch Way Stations in central Kentucky