Our next meeting will be on Thursday, March 7, at 6:30 pm, at St. Michael's Church, 2025 Bellefonte Drive, Lexington
Dr. Becky Fox of Transylvania University
will give a presentation about back yard birds

Who's That Nesting in My Plant?
And Other Questions About Birds in Spring
Spring is right around the corner, and that means a whole lot of changes are coming to your birdfeeder and your backyard. Join Dr. Becky Fox for a sneak preview: who's looking for love, who's leaving, who's just passing through on their way up north, and who keeps laying eggs in that potted plant on your porch. Find out how you can help out hard-working parent birds, and what to do if you find a baby bird out of the nest.
We welcome the public at all our events, including this one
+++++++++++++++++++++++++++++++++++++++++++++++++++++++++++++++++++++++++++++++++++
Public announcement:
The Citizen's Environmental Academy is accepting applications for the year 2019/2020
This year-long program is designed to engage Fayette County residents in environmental issues related to the LFUCG Department of Environmental Quality and Public Works.
At first, participants meet one Saturday a month for talks, tours and hands-on activities. Meeting sites include the Recycling Center, Town Branch Wastewater Treatment Plant, the Senior Center and McConnell Springs. The program then shifts gears and participants carry out group projects related to what they've learned in the academy. Each participant is allowed up to $2,500 to contribute toward their chosen project. Projects are selected by class vote and must be approved, along with a budget, by the city.
For additional information, including the academy schedule and application, visit LexingtonKY.gov/CEA. Applications are due March 29, and the new class will begin on May 18.
___________________________________________________________________________________
Our Wild Ones Organization
advances the knowledge about the native plants of our region and their habitats
promotes the use of native plants in private and public landscapes
encourages the creation of gardens that sustain bees, butterflies, moths, birds and other wildlife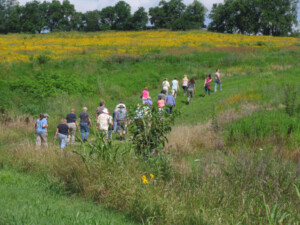 Our Chapter
hosts monthly meetings with an educational program and an opportunity for socializing
organizes an annual plant exchange in May
conducts tours of native plant gardens for the Lexington community
collaborates with other organizations to promote sustainable landscape design and plant choices
Our Members
created a pollinator garden at Wellington Park, Lexington, and continue to maintain it
contribute to the establishment of community gardens and the restoration of stream banks
offer presentations to interested groups about ecological gardening
have planted numerous Monarch Way Stations in central Kentucky