Monday, Sept. 26, from 2 to 4 pm (and all Mondays in the foreseeable future)
Removing Invasive Plants at Hisle Park
 The address is 3551 Briar Hill Road, Lexington. We gather in the parking lot at the end of the driveway. We will meet weekly at this time.

A bit of background: From the covid month of November 2020 to June 2022, a group of volunteers met weekly to remove bush honeysuckle, wintercreeper, and other invasives from areas near the park entrance and driveway. Our work was very successful and made a big visual impact. We are resuming our work now and will meet through the coming winter and spring. The plan is to tackle regrowth as well as new areas to clear. Please join us if you can. Bring clippers, loppers and a handsaw if you have them though we have some to loan out. Be sure to bring your own gloves. Questions? Ask us through our contact page.
___________________________________________________________________________________
October Meetings
We normally hold a meeting with a program on the first Thursday of each month, but not so in October. Instead we are partnering with the Urban Forest Initiative to support Tree Week, a series of tree related events from Oct. 8 through 16. Click here to see all Tree Week events. Our chapter's tree week event is listed below, as are several events hosted or co-hosted by Wild Ones members.
++++++++++++++++++++++++++++++++++++++++++++++++
Tuesday, Oct. 11 and Thursday, Oct. 13
5:30 to 6:30 pm, 124 Idle Hour Drive, Lexington (the program is the same on both evenings)
Small Trees for Urban Spaces
Leader: Beate Popkin
About 10-15 small trees, all native to eastern North America, will be introduced during a 0ne-hour stroll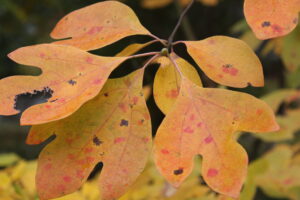 through an urban garden. We will talk about growth habits, proper placement, pruning needs and availability. In choosing a small tree, homeowners and landscapers gravitate toward dogwoods and redbuds. Other species are less well known and may not be readily available, but they can be gratifying to grow and would expand the diversity of plants in our urban landscapes.
+++++++++++++++++++++++++++++++++++++++++++++++
Saturday, Oct. 8, 10-11:30 pm
Wild Ones Member Ann Whitney Garner hosts a
Reforestation Tour
on her property and tree nursery at 3374 Briar Hill Road, Lexington
We will  meander through a 20-acre property and observe various native tree and plant species. This land now supports 10,000 trees, most of which were planted in the last 15 years.  We'll discuss our planting process, our methods used to plant, and the growth that can occur in a relatively short time.  Come see how an empty field became y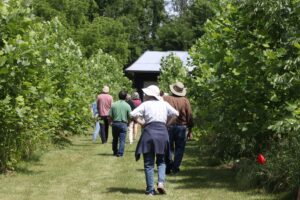 oung forest.
This event is kid-friendly. Pre-registration is required for this event. Please pre-register by using the contact information listed on this website (www.fieldstoforest.com).
When arriving, please enter through the open gates and follow the road to the house.
+++++++++++++++++++++++++++++++++++++++++++++++
Sunday, Oct. 9, 3-5 pm, meet in the Fairway Lane median near Richmond Road
The Fairway Neighborhood Association (with support from Wild Ones President Beate Popkin) hosts
A Stroll through Tree Lined Streets in a Historic Neighborhood
Fairway is a historic neighborhood of tree lined streets and homes located off Richmond Road near the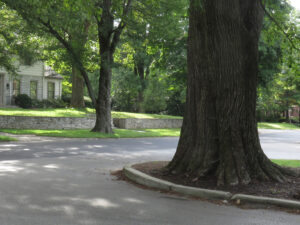 Henry Clay Estate.  The starting point is the 100+ year old Great American Elm tree at the neighborhood entrance and the tour meanders through the neighborhood along the Queensway and Kingsway streets filled with Elms, Oaks, and Magnolias as well as other species. 
Refreshments and snacks will be provided along with guided tours.  Self walking maps will also be available. Please be courteous if parking along neighborhood streets and do not block driveways.
This event is kid-friendly.
+++++++++++++++++++++++++++++++++++++++
Friday, Oct. 14, stop by any time between 12 and 4 pm
1001 Watermill Lane (walk down the driveway into Veterans Park)
Wild Ones member Linda Klink hosts a tour of
A One-Year Old Tree Planting at Veterans Park
Linda and her neighborhood association planted about 120 trees in the floo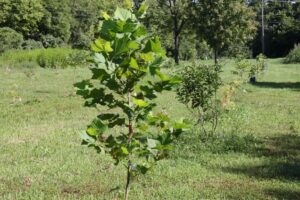 d plane of West Hickman Creek directly behind her house. An astonishing 30 species of native trees growing there now will expand the forested area along the creek and enhance the popular walking path through the park. Supported by a Stormwater grant and other funding this planting is an impressive example of what citizens who actively care about the environment and about our public spaces can accomplish. Linda will talk about the thought and work that went into this impressive project. See more details here.
________________________________________________________________________________________
Saturday, Oct. 1, 8:30 am – 4 pm, Floracliff Nature Sanctuary
Bluegrass Land and Nature Symposium
Co-hosted by Floracliff Nature Sanctuary and Wild Ones Lexington
This event is sold out
This all-day meeting focuses on the plants and animals of our region, its biodiversity and the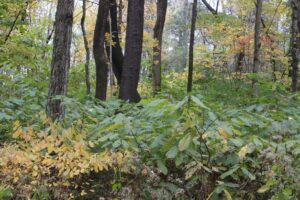 stewardship that individuals and groups offer to manage and preserve it. Dr. Margaret Carreiro, an urban ecologist from Louisville, will give the keynote address: Planning a Resilient Future for Flora and Fauna in the Bluegrass. All subsequent sessions are led by local naturalists and will take place outdoors on the Floracliff grounds.
As a 346-acre nature sanctuary located on the edge of Kentucky's second largest city, Floracliff provides a unique setting to explore the intersection of wild nature with human-built urban, suburban and rural landscapes. Our Symposium offers insights to practices that support wildlife, the challenges along the way and the ecological and personal rewards that come from welcoming nature at home and in our communities.
Pre-registration is required and the cost of $35 includes lunch. Details about the Symposium schedule and registration are here.
___________________________________________________________________________________
Looking to buy native plants in Central Kentucky? Click here.
Looking for a Landscape Service? Click here.
Looking for volunteer opportunities? Click here
To receive our monthly e-Newsletter, sign up here.