On Thursday, June 7, at 6:30 pm, we will meet at the
Kentucky Horse Park
for a potluck picnic and a tour of the landscape plantings around the Visitor Center and in other public areas. Several Wild Ones members have worked at the Horse Park over the last few years to install native plant flower beds. We will visit these sites in the company of their creators.
Please park in front of the Visitor Center. The guard gate should not be staffed at this time of day, but if someone is there and asks questions, just say you are going to an event with Annie Martin (who is the volunteer coordinator). The Visitor Center will be closed; just walk to the left of it through an open black gate and the Bit and Bridle restaurant will be dead ahead. We will meet on the patio of the restaurant.
Please bring a dish to share and your own beverage.

ALL OUR MEETINGS ARE OPEN TO THE PUBLIC



---
Our Wild Ones Organization
advances the knowledge about the native plants of our region and their habitats
promotes the use of native plants in private and public landscapes
encourages the creation of gardens that sustain bees, butterflies, moths, birds and other wildlife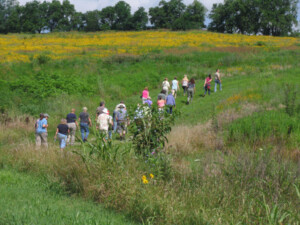 Our Chapter
hosts monthly meetings with an educational program and an opportunity for socializing
organizes an annual plant exchange in May
conducts tours of native plant gardens for the Lexington community
collaborates with other organizations to promote sustainable landscape design and plant choices
Our Members
created a pollinator garden at Wellington Park, Lexington, and continue to maintain it
contribute to the establishment of community gardens and the restoration of stream banks
offer presentations to interested groups about ecological gardening
have planted numerous Monarch Way Stations in central Kentucky