On Saturday, July 21, at 10 am we will tour a native tree nursery at
Oakland Farm Trees
Then we'll gather for a picnic at Auvergne, the near-by farm of Wild Ones members Berle and Brenda Clay

Both Farms are located outside of Paris off Rte. 627
Please note that this date is different from our usual meeting date on the first Thursday of the month. 
Oakland Farm, at 1608 Winchester Road, Paris, has been in the family since 1876. Doug Witt and Laura Greenfield are the 5th and 6th generations, respectively, to work on it. Oakland Farm Trees is a nursery specializing in Ky native trees and began in 2014 as an opportunity to diversify. Now 4 years old, it's finding a niche market supplying affordable and efficient potted trees to public and private spaces. Laura is excited to walk us around the nursery and take us on a trip across the farm to see Bur Oaks that are hundreds of years old and are the momma trees for Oakland Farm's Heirloom Collection, which aims to preserve genetic legacies through propagation. Plants will be available for sale, cash and check only. Read more at www.oaklandfarmtrees.com
To get to Oakland farm from Lexington, take US 27N/ US 68E (Paris Pike) into Paris. Continue onto Main St. Turn right on 10th St. (Secretariat Way) and continue across the railroad tracks onto KY 627 S (Winchester Rd.). About 4miles, 1608 Winchester Rd. will be on the right.
Auvergne, the Clay's farm, dates from a 1782 purchase from Virginia which was developed into an extensive farm operation in the 1830s and 1840s. Berle will make some comments on the evolving landscape at the farm and also about the conservation work he has done and why he has done it. Folks can wander at will in the 12 acre a yard.
To reach the Clay farm from Oakland farm: turn left from the gate and the entrance to Auvergne will be on the right just before crossing the bridge. The gravel road to the house is about a mile long…follow to the end. There will a sign indicating where to park.
To get to the Clay farm from Paris turn right on 627 for Winchester. The farm entrance is on the left after crossing a bridge, 3 miles from the train depot.
For the picnic, bring folding chairs and your own food. Cool water will be provided.
ALL OUR MEETINGS ARE OPEN TO THE PUBLIC

---
Our Wild Ones Organization
advances the knowledge about the native plants of our region and their habitats
promotes the use of native plants in private and public landscapes
encourages the creation of gardens that sustain bees, butterflies, moths, birds and other wildlife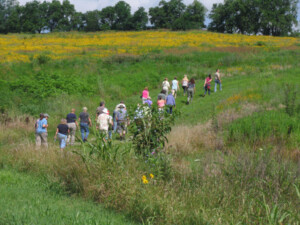 Our Chapter
hosts monthly meetings with an educational program and an opportunity for socializing
organizes an annual plant exchange in May
conducts tours of native plant gardens for the Lexington community
collaborates with other organizations to promote sustainable landscape design and plant choices
Our Members
created a pollinator garden at Wellington Park, Lexington, and continue to maintain it
contribute to the establishment of community gardens and the restoration of stream banks
offer presentations to interested groups about ecological gardening
have planted numerous Monarch Way Stations in central Kentucky