On Thursday, April 5, 2018, 6:30 pm, the Lexington chapter of Wild Ones will meet for a presentation by
Shari Dutton, Horticulture Instructor at UK
The Native Plant Program of the UK Student Horticulture Club
Shari, who is the Hort Club advisor, will speak to us about the challenges of growing native plants from seed and making them ready for sale. Shari comes toward natives with a long background in teaching the techniques of nursery production to students seeking a career in landscaping or horticulture. In turning to natives, she sees a niche market for future horticulturalists that she hopes will expand into the mainstream. The Hort Club has produced an informative catalog of the plants they grow and will provide information about their sale.
We will meet at St. Michael's Episcopal Church, 2025 Bellefonte Drive, Lexington. Social time with refreshments starts at 6:30 pm and the presentation starts at 7.
OUR MEETINGS ARE OPEN TO THE PUBLIC
xxxxxxxxxxxxxxxxxxxxxxxxxxxxxxxxxxxxxxxxxxxxxxxxxxxxxxxxxxxxxxxxxxxxxxxxxxxxxxxxxxxxxxxxxxxxxxxx
On Sunday, April 29, 2 pm, Wild Ones, in partnership with the Sierra Club, sponsors a performance of
Sisters of the Mother Forest
at the Farish Theater of the downtown Library. Admission and parking are free.
This play brings to life the remarkable career of the forest ecologist Lucy Braun and of her sister Annette Braun, an entomologist and Lucy's life-long companion. The play was written and will be performed by Alice Jones, Director of the Appalachian Studies and Environmental Sustainability & Stewardship Programs at EKU.
Possibly nobody has done more to help us understand and appreciate Kentucky forests than Lucy Brown. Scholar, teacher, ecologist and activist, Lucy (1889-1972) spent a lifetime exploring and studying America's eastern forests, and when she found them under threat, she defended them helping establish preserves that we can still visit today. A documentary film about Lucy Braun's life will be released this spring.
Click here to view a trailer of this film

---
Our Wild Ones Organization
advances the knowledge about the native plants of our region and their habitats
promotes the use of native plants in private and public landscapes
encourages the creation of gardens that sustain bees, butterflies, moths, birds and other wildlife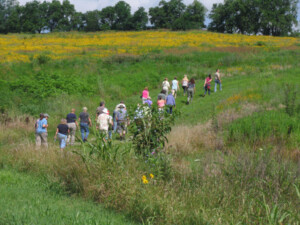 Our Chapter
hosts monthly meetings with an educational program and an opportunity for socializing
organizes an annual plant exchange in May
conducts tours of native plant gardens for the Lexington community
collaborates with other organizations to promote sustainable landscape design and plant choices
Our Members
created a pollinator garden at Wellington Park, Lexington, and continue to maintain it
contribute to the establishment of community gardens and the restoration of stream banks
offer presentations to interested groups about ecological gardening
have planted numerous Monarch Way Stations in central Kentucky