Our next meeting will be on Thursday, December 6, at 6:30 pm, at St. Michael's Church, 2025 Bellefonte Drive, Lexington
We will have our annual seed exchange, and this year we are adding an exchange of gardening and nature books. We will have an informal slide show of some Lexington parks, greenspaces, and gardens, and also of some of our past Wild Ones events. There will be an opportunity for sharing your thoughts about our chapter's future and its direction.
Please bring your seeds for exchange labeled and, if feasible, divided into small packages. Bring books that you will not read again but may be of interest to someone else. The books should be about nature, ecology, gardening for environmental impact and similar themes. This meeting will be less formal than usual, and we ask participants who can't share seeds or books to contribute to our food and drink perhaps with a holiday snack or a nice beverage.
We welcome the public at all our events, including this one
___________________________________________________________________________________
Our Wild Ones Organization
advances the knowledge about the native plants of our region and their habitats
promotes the use of native plants in private and public landscapes
encourages the creation of gardens that sustain bees, butterflies, moths, birds and other wildlife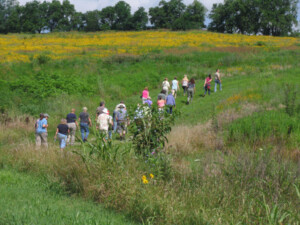 Our Chapter
hosts monthly meetings with an educational program and an opportunity for socializing
organizes an annual plant exchange in May
conducts tours of native plant gardens for the Lexington community
collaborates with other organizations to promote sustainable landscape design and plant choices
Our Members
created a pollinator garden at Wellington Park, Lexington, and continue to maintain it
contribute to the establishment of community gardens and the restoration of stream banks
offer presentations to interested groups about ecological gardening
have planted numerous Monarch Way Stations in central Kentucky