The Lexington chapter of Wild Ones will meet on Thursday, Sept. 5, 6:00 pm, at
Walter Bradley Park in Midway

This lovely park extends along the Lee Branch of Elkhorn Creek in downtown Midway. In recent years, honeysuckle and other invasives have been cleared and a rich native
landscape emerged. Paths and bridges guided visitors through the park and allow them to appreciate its lush inner Bluegrass vegetation. When was the last time you walked through the woods with yellow (!) jewel weed towering over your head? The city of Midway and the volunteers dedicated to this restoration effort have done an admirable job creating a natural urban space that honors our central Kentucky environment.
We will meet at 6 pm at 128 Martin Street, the home of Wild Ones member Joy Arnold whose property borders on the park. Cecilia Gass, a park volunteer, will be our guide on a leisurely ½ to 1 mile walk through the park.
Directions: driving north on Rte. 62, which becomes Winter Street in Midway, go one block past Main Street and turn right on Martin Street. No. 128 is on your left, but you will park your car in the large empty space on the opposite side of the street.
We welcome the public to our events
++++++++++++++++++++++++++++++++++++++++++++++++++++++++++++++++++++++++++++++++
Please join Lexington residents on Sunday, Sept. 8, for the second annual
Nature Hop
From 11 am to 5 pm, twenty-three events sponsored by local environmental organizations and by LFUCG take place in Lexington's parks, public greenspaces and on private properties. There are nature walks, geocaching and other games, yoga, garden tours, art activities and more. At 5 pm Nature Hop moves indoors to the downtown library gallery for a reception honoring the artists of the "Paint by Nature" art exhibit.
Rain date: September 15
To find all Nature Hop events, click on the website at LexingtonKy.gov/NatureHop. Please note that events # 8, 12 and 15 were initiated by Wild Ones members.
Facebook:https://www.facebook.com/events/568929456971845/
.+++++++++++++++++++++++++++++++++++++++++++++++++++++++++++++++++++++++++++++++
Our Wild Ones Organization
advances the knowledge about the native plants of our region
promotes the use of native plants in private and public landscapes
encourages the creation of gardens that sustain bees, butterflies, moths, birds and other wildlife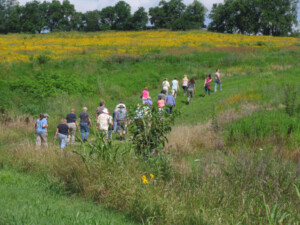 Our Chapter
hosts monthly meetings with an educational program and an opportunity for socializing and networking
organizes an annual plant exchange in May
collaborates with other organizations to promote sustainable landscape design and plant choices
Our Members
created a pollinator garden at Wellington Park, Lexington, and continue to maintain it
contribute to the establishment of community gardens and the restoration of stream banks
offer presentations to interested groups about ecological gardening
have planted numerous Monarch Way Stations in central Kentucky