Saturday, June 24, 10 am – 3 pm
A Tour of Six Pollinator Gardens
Our garden tour is free to the public. It is also a Pollinator Week event
This garden tour draws attention to the fact that showy gardens do not have to hide behind a building. They can be planted in front of a house, a business or an institutional building adding grace to a facade and interest to an urban street. Even the weedy strip between the curb and a sidewalk can be transformed into a flower bed. Such gardens will  encourage pollinators to come foraging and pedestrians to come and see what's blooming from week to week.
 Some of the gardens on our tour are well established, some are very new. The owners or initiators of these gardens will be available to answer questions and provide information. Come out and see some exciting possibilities for transforming Lexington's garden culture.
 Tour these Gardens

 992 Stonewall Road, Lexington, Owner: Jannine Baker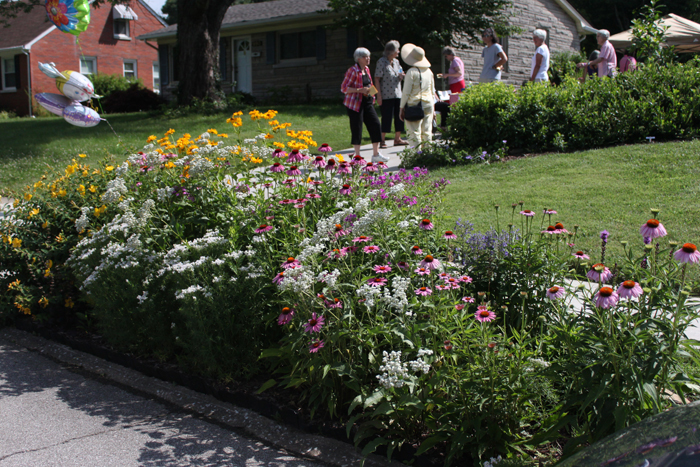 This is a beautifully designed 20-year old garden that includes small flower beds in the strip between the street and the curb. Shrubs, small trees and native flowers provide a succession of bloom throughout the spring, summer and fall. All beds are neatly separated from the grassy areas of the front yard through masonary borders which greatly help with garden management and also assure that the front yard never looks out of control despite the large diversity of plants displayed here.
1135 Harry Sykes Way, Lexington, Owner: The FCPS Family Care Center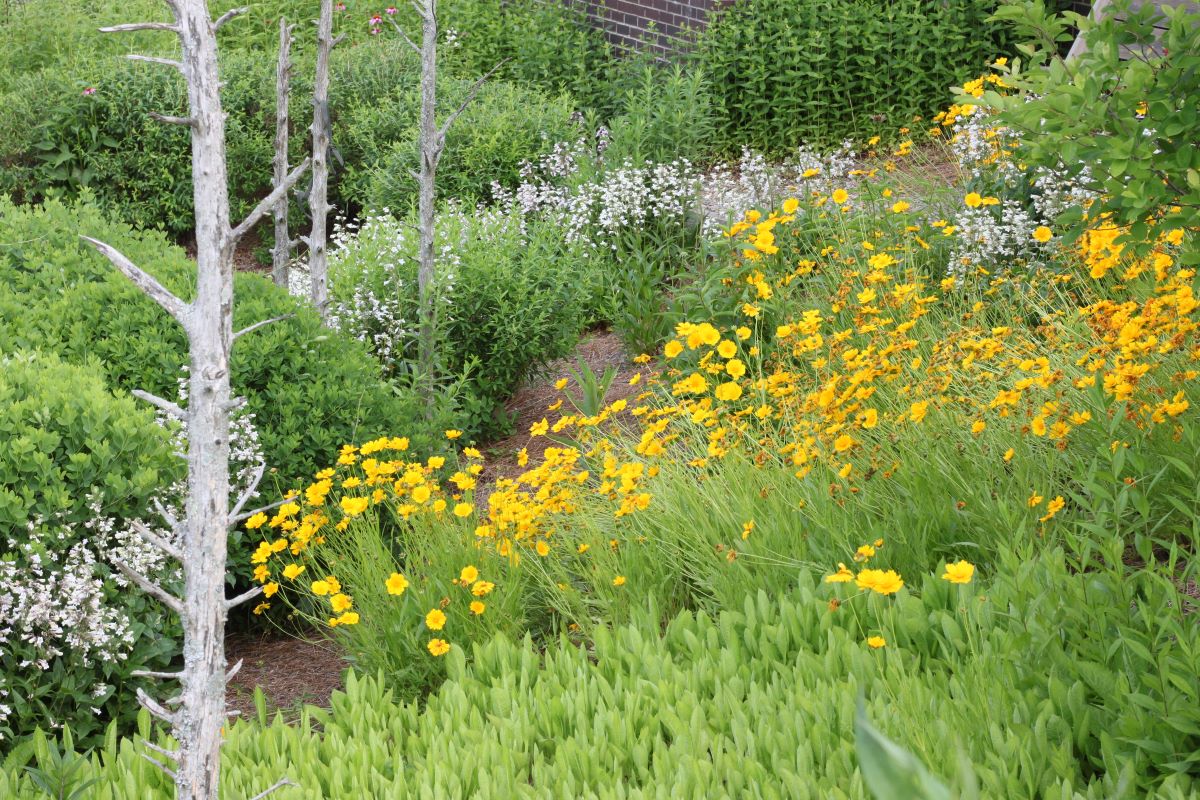 A beautiful pollinator garden greets visitors at the entrance of the Family Care Center. The garden was planted 6 years ago on a hillside to make the facility more welcoming and to provide an outdoor classroom for observation and interaction with birds, bees, butterflies and other pollinators.
The Family Care center combines a school and early child care center and is operated by the City of Lexington and the Fayette County Public School system.
174 Jesselin Drive, Lexington, Owner: Patricia Anderson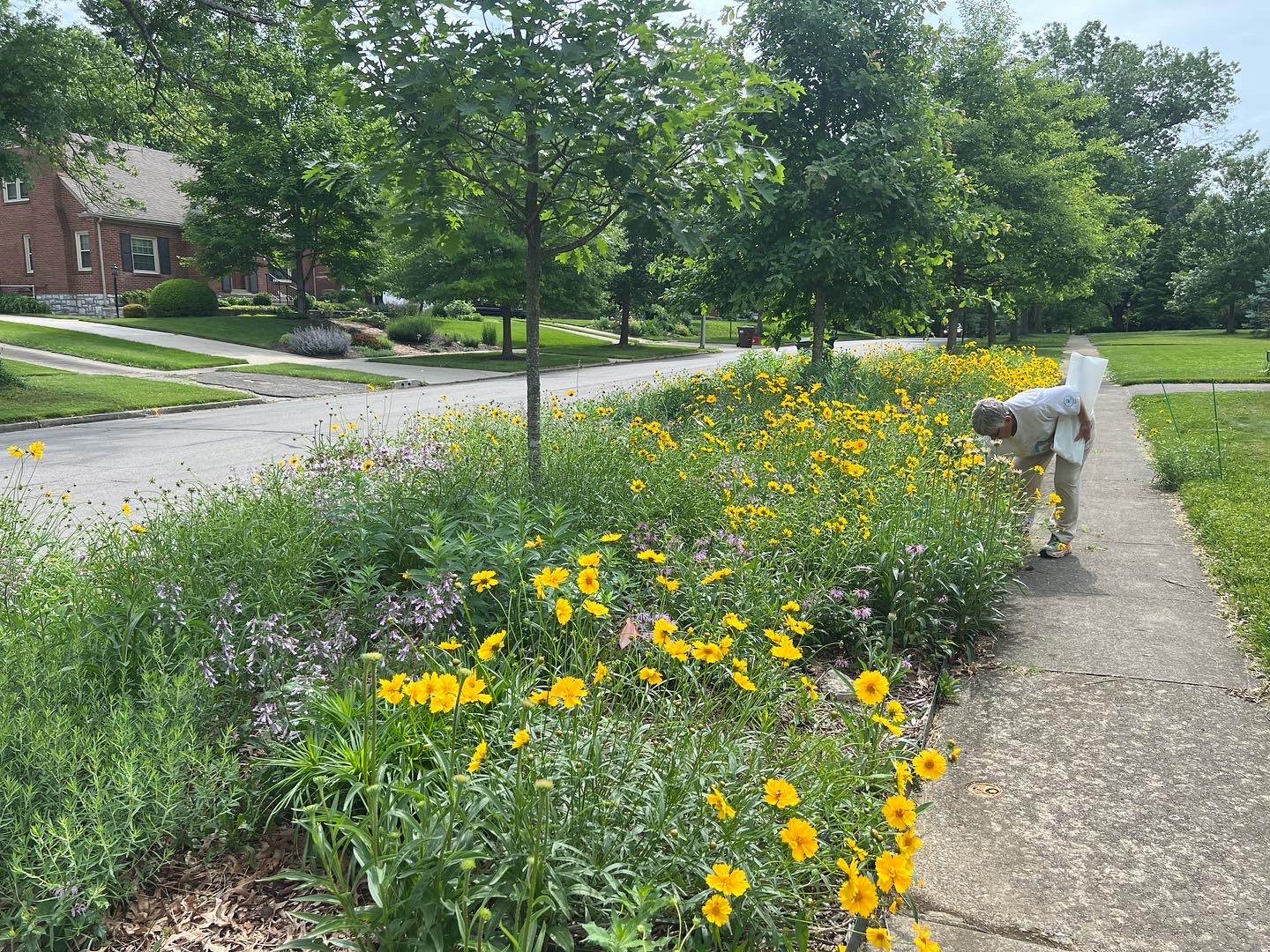 This property is blessed with a very wide curb side strip which Pat Andersen has used to good advantage for a lush flower garden that changes throughout the seasons. The rest of the front yard, between the sidewalk and the house, extends the idea of ecological garden design through more plantings and natural ornaments.
Pat worked with Katrina Kelly of EARTHeim Landscape Design to create this eye-catching garden.
She will be available to talk about her garden from 10 am to 1 pm, but the garden can be visited beyond that time as well.
837 Calypso Breeze Drive, Lexington, Owner: Geraldine Krause

Ever since she moved into her house tucked away in one of Lexington's newer neighborhoods, Geraldine has worked on creating an environmentally sustainable landscape. She interrupted the row of ornamental pears the developer had installed along her street and planted two blackgums. She removed the grass from the curbside strip and put in a native plant garden. She covered a large area in front of her house with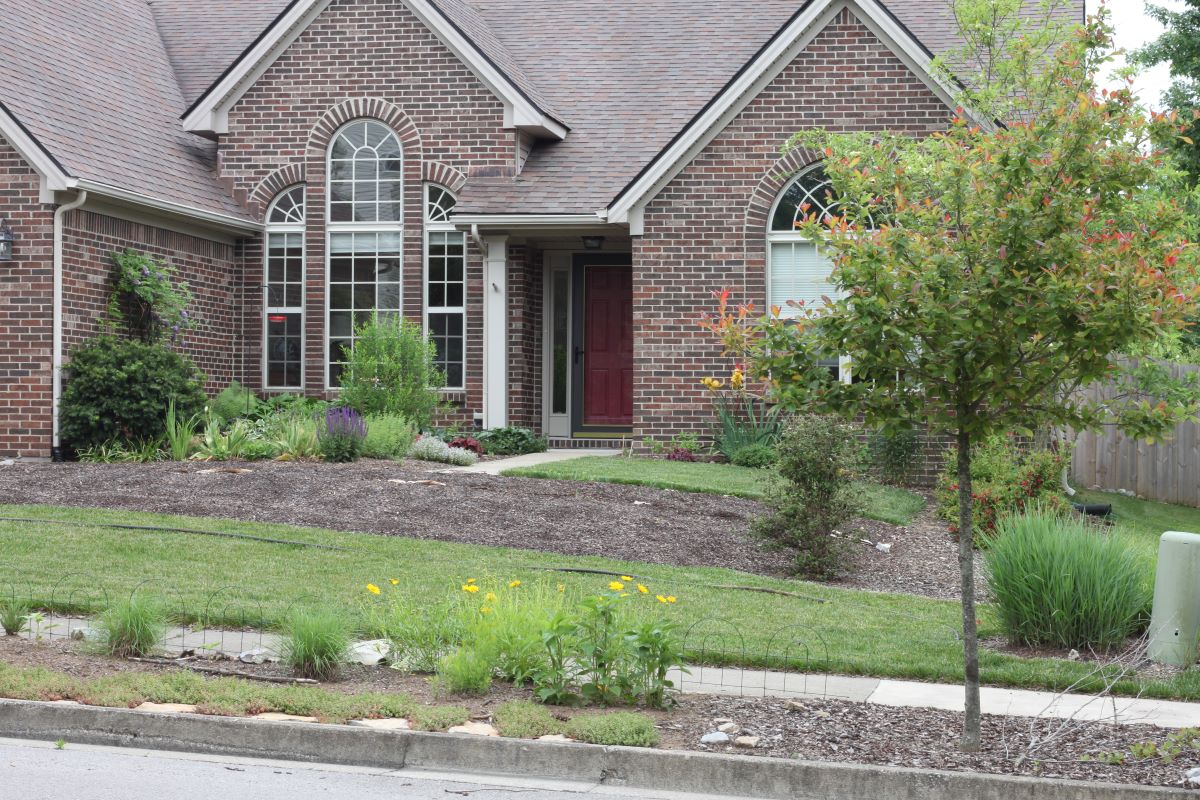 cardboard and mulch to get it ready for a very visible flower garden.
New neighborhoods present challenges to garden making. Topsoils have been stripped away to expose a layer of clay compacted by heavy earth moving equipment. Geraldine faces these difficulties head-on. She carefully prepares the ground where she plans to garden, determined to prove that plants, if given half a chance, will always do what they are meant to do: cover the earth, improve its soils, comfort us humans through their beauty.
Geraldine was awarded  a Wild Ones garden grant in 2022 to help her get started on her curbside project.
433 Culpepper Road, Lexington, Owner: Marcia Hopkins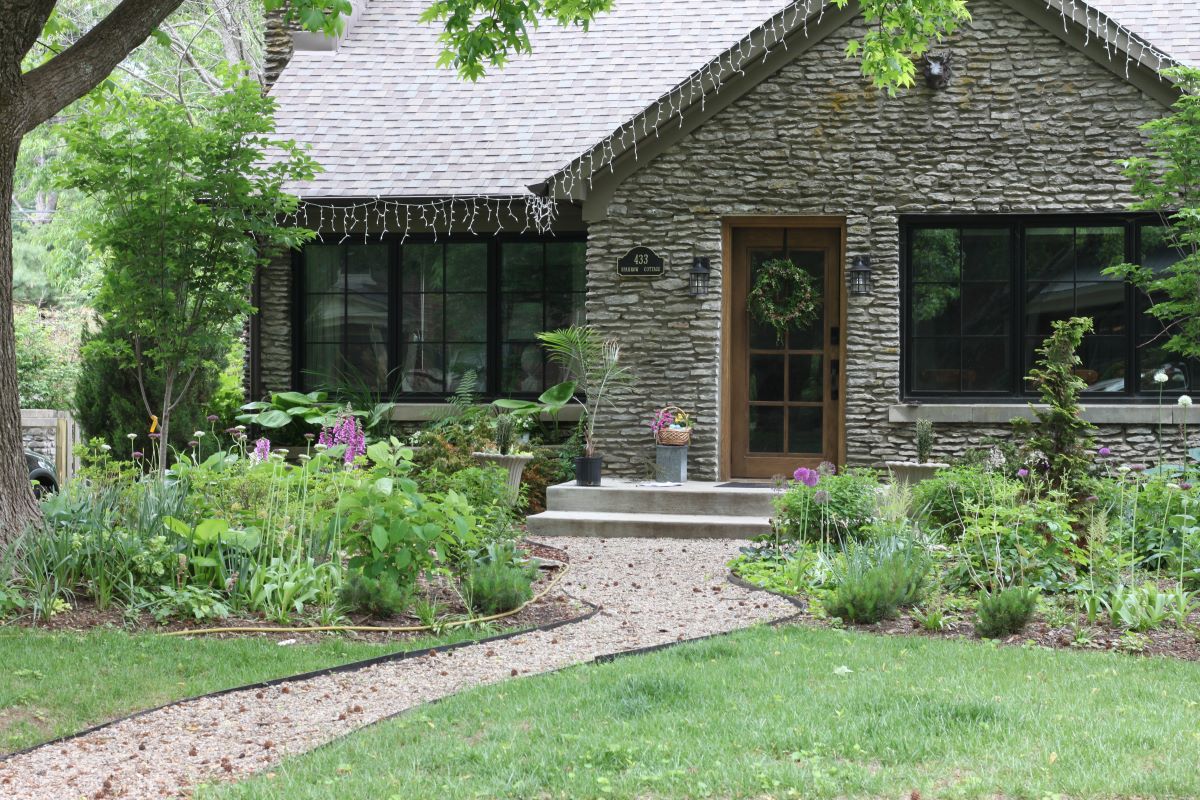 This garden in front of a lovely cottage-style house receives shade from a very large sweetgum tree. Marcia has recently added shrubs and understorey trees, laid out paths and planted flowers that tolerate some shade. While native-plant landscapes tend to be devoid of color during the summer, Marcia has introduced a mixture of native and non-native plants to maintain some color throughout the season.
She received a Wild Ones garden grant to help with her project.
152 N. Locust Hill Dr., Lexington, Owner: Wild Birds Unlimited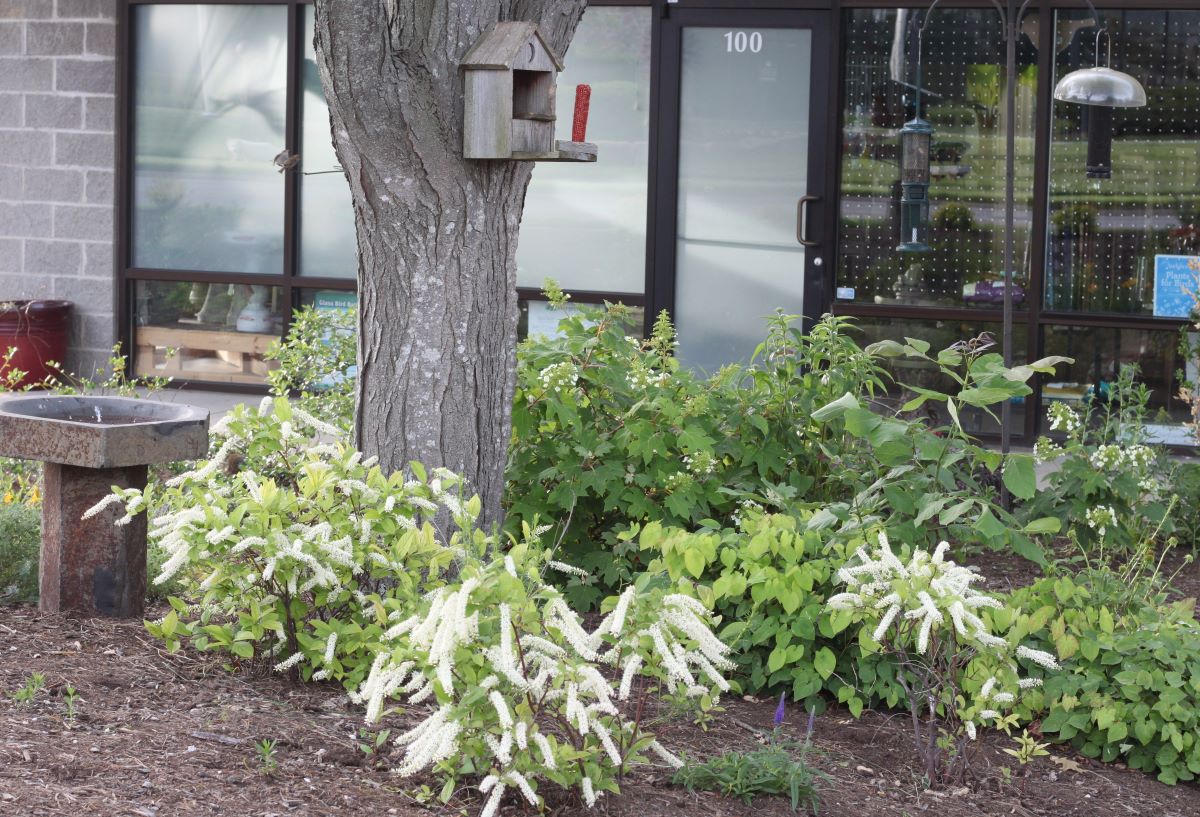 In front of the Nature Shop operated by Wild Birds Unlimited a small detention basin wedged between two parking lots has been transformed into a bird sanctuary. This was a challenging site for the creation of a garden that would be attractive not only for the store's customers but also for wildlife. The project has succeeded very well as the lively buzzing about of birds and bees attests. The garden is a Certified Wildlife Habitat because it provides the four elements that wild animals need: food, water, cover, and a place to raise their young. The garden has also been certified by the Audubon Society's "Plants for Birds" program. It is a model for other businesses that may want give visibility to their environmental commitment, but may be discouraged by the space arrangements of a commercial site.